Since the Covid-19 pandemic hit the world, most things have shifted to online platforms. This includes learning and education. Online learning has made everything extremely accessible to everyone with just one click. Today, schools and colleges, private tutorials, as well as corporate training are being done by creating an online course. Various platforms provide online learning courses and even give out certificates after the course is completed. So the question that most people have now is who should create an online course and why?
Online courses are not limited to schools and colleges. An online course can be created by anyone who has expertise in a particular field. For example, if you are a dance instructor whose business is affected due to the pandemic, you can take your course on a global level by making an online course of your dance routines. If you are a business owner who wants to train employees in a particular subject, you can create a virtual training program that lets the employees gain knowledge from the comfort of your home.
In this article, we will discuss 5 main reasons to create an online course. We have also mentioned a few platforms that can be used to create an online course from scratch. So let's get started!
Also Read: Essential WordPress Plugins To Use On Your Website
5 reasons to create an online course:
1. Great way to share knowledge
Creating an online course is one of the best ways to share your knowledge and make a bigger impact on the world. Online courses allow you to educate people by sharing their own experiences and tell them about your struggles. Online courses also help you reach a bigger audience since they can be accessed by anyone in the world. Moreover, you no longer have to take classes on a limited schedule. Once you have uploaded your course on the platform, students can complete it whenever they get the time. Hence, this becomes a flexible and comfortable way of training for both the trainer and the trainee.
2. Passive income
Online courses can be a great way of earning passive income even when you are not constantly working on them. Once you upload the course, various marketing and automation tools can make the rest of your task easy. Furthermore, your online course can become a recurring source of income in two ways – once a course is uploaded, it can be taken by anyone even after 5 years; and once you have a set audience, you can create more courses for them to keep them engaged on your platform. The key is to offer value to the students and make sure you solve all the problems they face while taking your course.
3. Time management and flexibility
Probably the best part about creating an online course is that you can create your schedule. It allows you to work and manage your course from anywhere in the world. All you will need is your laptop and an internet connection to stay updated with your course and make any changes if required. You can take breaks, go on holidays, spend time with your families while your course is still being studied and bring business to you.
4. Create a brand
Online courses can also help you create a personal brand on a global level. People will start following you on various social media platforms and seek advice on your success. If you have a business, this can bring you thousands of new customers who will stay with you in the long term. Increasing pine visibility helps you reach a wider audience and turn your name into a brand.
5. Minimum investment
Perhaps the most important part of creating an online course is that it doesn't require a lot of investment. Since you don't need to print your books, rent a classroom, or pay for other stationery items, most of your expenses become negligible. Many online platforms allow you to create an online course for free. Once you get started and the course starts generating income, you can switch to a premium version of these platforms and add various features in your course to make it more interesting and engaging for the audience.
Creating an online course with WordPress:
WordPress is easily the best content management system out there and you can build a course easily! Let's explore why you should choose WordPress:
Also Read: Best BuddyPress Addons
1. Freedom
WordPress gives you complete freedom to design your courses the way you want. However, you will need to purchase a domain name and web hosting to install it.
2. Easy customization
With multiple themes and plugins, non-designers can easily build websites. Moreover, WordPress also offers you FREE themes and plugins that can make your overall website experience better. You can design an online course the way you want and add all the necessary plugins. Once you are done with this, you can get started!
3. Easy to manage
As we mentioned before, WordPress is easy to understand and can be used by anyone. Additionally, you can easily manage your account on the go!
4. SEO-friendly
If you want to start an online class, you need SEO and keywords to be on your side. Luckily, this can be done with ease with WordPress. You can also use WordPress SEO to optimize your website.
We highly recommend you harness the power of WordPress by using it!
Creating an online course with LearnDash: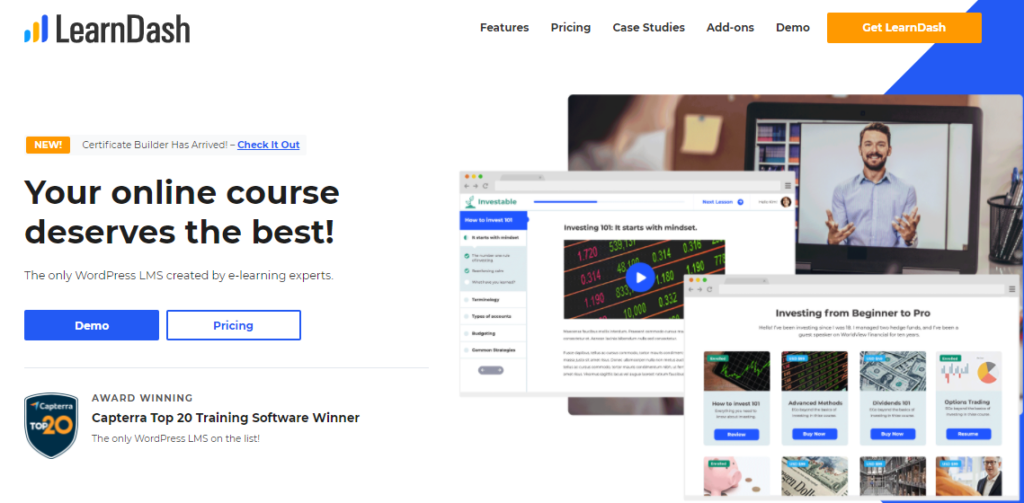 LearnDash is perfect for anyone who wants to design a banger online course. You can design courses, sections, lessons, and topics without any hassle.
1. Experience
LearnDash gives your students an immersive learning experience by designing fun courses. Your students will be able to learn more and grasp concepts easily.
2. Control
While using LearnDash too, you have complete control over what goes on your website. You can use any pricing model, any payment gateway, and set renewal reminders.
3. Gamification
You can reward your students for completing individual or group tasks. You can also boost engagement with LearnDash.
Conclusion
Where there's eLearning, there's WordPress and LearnDash! To use LearnDash, you will need a WordPress website. Now go ahead, build a course, and succeed! We hope this article has helped you understand who should create an online course and why. Thank you for reading!
Interesting Reads:
WooCommerce Social Media Plugins